Hydrocarbon Processing Industry (Petrochemical / Chemical)
The Hydrocarbon Processing Industry (HPI) market, encompassing petroleum refining, gas processing, petrochemical and chemical, is a foundational field for all industry. In the HPI market, many kinds of analytical and testing instruments are used for quality control purposes and process management.

With a wide range of products, from GC and Elemental Analyzers to an On-line Water Quality Analyzer and Testing Machines, Shimadzu offers total support for laboratories in the HPI market.

From Upstream to Downstream, our rugged, high-quality products are perfectly suited to meet the demands of your laboratory and contribute to your business success.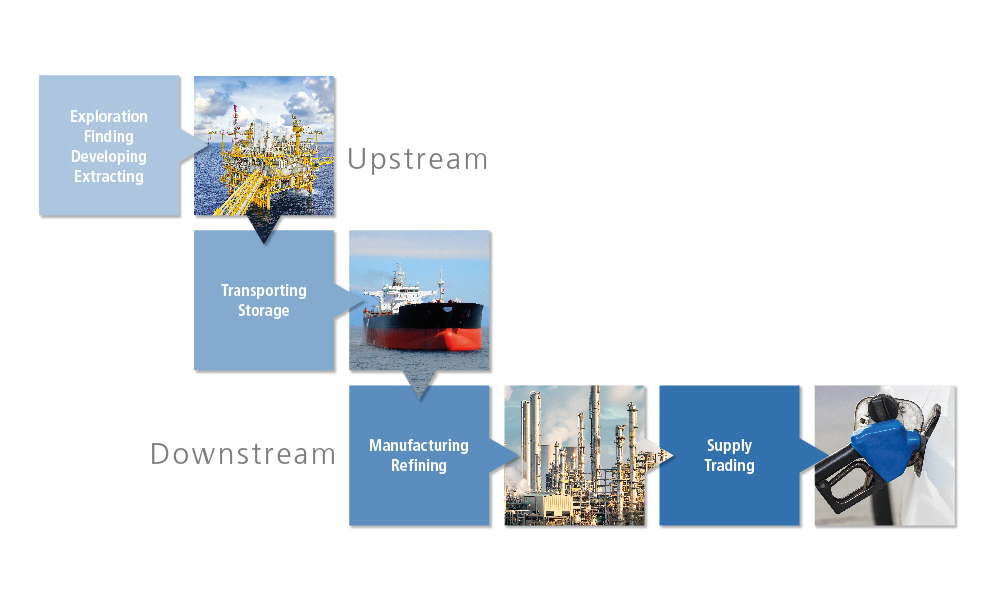 Analytical Techniques
Related Documents
These brochures may contain references to products that are not available in your country.
Please contact us to check the availability of these products in your country.
Hydrocarbon Analysis by Chromatography
Elemental Analysis
ICP Mass Spectrometry
Applicable Method
Trace Elements analysis in Naphtha
Atomic Absorption Spectrometry
Applicable Method
Elements analysis in Oil and Water Additives in Polymers (ASTM D6595/D3237/D3567/D3605/D3635/D3831/D3919/D4628)
Energy Dispersive X-Ray Fluorescence Spectrometry
Applicable Method
Total Organic Carbon Analysis
Oil and Fuel analysis by Molecular Spectroscopy
UV-VIS Spectrophotometer
Applicable Method
Naphthalene analysis in Turbine Fuels (ASTM D1840)
Analysis of Ultraviolet Absorbance (ASTM D2008)
Fluorescence Spectroscopy
Applicable Method
Measuring Oil in Water (ASTM D5412)
Materials Characterization
ASTM Standards
No.
Title
System Details
ASTM E2412
Standard Practice for Condition Monitoring of In-Service Lubricants by Trend Analysis Using Fourier Transform Infrared (FT-IR) Spectrometry
FTIR Spectroscopy
ASTM D638
Standard Test Method for Tensile Properties of Plastics
Tensile Test Methods for Plastics
ASTM D790
Standard Test Methods for Flexural Properties of Unreinforced and Reinforced Plastics and Electrical Insulating Materials
Flexural Test Methods for Plastics
ASTM D1840
Standard Test Method for Naphthalene Hydrocarbons in Aviation Turbine Fuels by Ultraviolet Spectrophotometry
UV-Vis-NIR Spectroscopy
ASTM D2008
Standard Test Method for Ultraviolet Absorbance and Absorptivity of Petroleum Products
ASTM D1894
Standard Test Method for Static and Kinetic Coefficients of Friction of Plastic Film and Sheeting
Testing Machine
ASTM D1945
Standard Test Method for Analysis of Natural Gas by Gas Chromatography
Natural Gas Analysis
LPG Analysis System
ASTM D1946
Standard Practice for Analysis of Reformed Gas by Gas Chromatography
ASTM D3588
Standard Practice for Calculating Heat Value, Compressibility Factor, and Relative Density of Gaseous Fuels
ASTM D2163
Standard Test Method for Determination of Hydrocarbons in Liquefied Petroleum (LP) Gases and Propane/Propene Mixtures by Gas Chromatography
RGA System
High-speed RGA System
ASTM D2504
Standard Test Method for Noncondensable Gases in C2 and Lighter Hydrocarbon Products by Gas Chromatography
ASTN D7833
Standard Test Method for Determination of Hydrocarbons and Non-Hydrocarbon Gases in Gaseous Mixtures by Gas Chromatography
ASTM D2887
Standard Test Method for Boiling Range Distribution of Petroleum Fractions by Gas Chromatography
Distillation Gas Chromatograph System
ASTM D3710
Standard Test Method for Boiling Range Distribution of Gasoline and Gasoline Fractions by Gas Chromatography
ASTM D5307
Standard Test Method for Determination of Boiling Range Distribution of Crude Petroleum by Gas Chromatography
ASTM D6352
Standard Test Method for Boiling Range Distribution of Petroleum Distillates in Boiling Range from 174℃ to 700℃ by Gas Chromatography
ASTM D6417
Standard Test Method for Estimation of Engine Oil Volatility by Capillary Gas Chromatography
ASTM D7096
Standard Test Method for Determination of the Boiling Range Distribution of Gasoline by Wide-Bore Capillary Gas Chromatography
ASTM D7169
Standard Test Method for Boiling Point Distribution of Samples with Residues Such as Crude Oils and Atmospheric and Vacuum Residues by High Temperature Gas Chromatography
ASTM D7500
Standard Test Method for Determination of Boiling Range Distribution of Distillates and Lubricating Base Oils - in Boiling Range from 100℃ to 735℃ by Gas Chromatography
ASTM D3237
Standard Test Method for Lead in Gasoline by Atomic Absorption Spectroscopy
Atomic Absorption Spectroscopy
ASTM D3605
Standard Test Method for Trace Metals in Gas Turbine Fuels by Atomic Absorption and Flame Emission Spectroscopy
ASTM D3635
Standard Test Method for Dissolved Copper In Electrical Insulating Oil By Atomic Absorption Spectrophotometry
ASTM D3831
Standard Test Method for Manganese in Gasoline By Atomic Absorption Spectroscopy
ASTM D3919
Standard Practice for Measuring Trace Elements in Water by Graphite Furnace Atomic Absorption Spectrophotometry
ASTM D4628
Standard Test Method for Analysis of Barium, Calcium, Magnesium, and Zinc in Unused Lubricating Oils by Atomic Absorption Spectrometry
ASTM D5863
Standard Test Methods for Determination of Nickel, Vanadium, Iron, and Sodium in Crude Oils and Residual Fuels by Flame Atomic Absorption Spectrometry
ASTM D6595
Standard Test Method for Determination of Wear Metals and Contaminants in Used Lubricating Oils or Used Hydraulic Fluids by Rotating Disc Electrode Atomic Emission Spectrometry
ASTM D3524
Standard Test Method for Diesel Fuel Diluent in Used Diesel Engine Oils by Gas Chromatography
Gas Chromatography
ASTM D3525
Standard Test Method for Gasoline Diluent in Used Gasoline Engine Oils by Gas Chromatography
ASTM D3606
Standard Test Method for Determination of Benzene and Toluene in Spark Ignition Fuels by Gas Chromatography
Gasoline/Fuel Analysis System
ASTM D4815
Standard Test Method for Determination of MTBE, ETBE, TAME, DIPE, tertiary-Amyl Alcohol and C1 to C4 Alcohols in Gasoline by Gas Chromatography
ASTM D5580
Standard Test Method for Determination of Benzene, Toluene, Ethylbenzene, p/m-Xylene, o-Xylene, C9 and Heavier Aromatics, and Total Aromatics in Finished Gasoline by Gas Chromatography
ASTM D7423
Standard Test Method for Determination of Oxygenates in C2, C3, C4, and C5 Hydrocarbon Matrices by Gas Chromatography and Flame Ionization Detection
ASTM D3612
Standard Test Method for Analysis of Gases Dissolved in Electrical Insulating Oil by Gas Chromatography
ASTM D3695
Standard Test Method for Volatile Alcohols in Water by Direct Aqueous-Injection Gas Chromatography
Alcohol in Water Analysis System
ASTM D4294
Standard Test Method for Sulfur in Petroleum and Petroleum Products by Energy Dispersive X-ray Fluorescence Spectrometry
Energy Dispersive X-ray Fluorescence Spectroscopy
ASTM D5839
Standard Test Method for Trace Element Analysis of Hazardous Waste Fuel by Energy-Dispersive X-Ray Fluorescence Spectrometry
ASTM D4492
Standard Test Method for Analysis of Benzene by Gas Chromatography
Impurities in Benzene Analysis System
ASTM D4735
Standard Test Method for Determination of Trace Thiophene in Refined Benzene by Gas Chromatography
Trace Sulfur Analysis System
ASTM D5504
Standard Test Method for Determination of Sulfur Compounds in Natural Gas and Gaseous Fuels by Gas Chromatography and Chemiluminescence
ASTM D5623
Standard Test Method for Sulfur Compounds in Light Petroleum Liquids by Gas Chromatography and Sulfur Selective Detection
ASTM D7011
Standard Test Method for Determination of Trace Thiophene in Refined Benzene by Gas Chromatography and Sulfur Selective Detection
ASTM D6228
Standard Test Method for Determination of Sulfur Compounds in Natural Gas and Gaseous Fuels by Gas Chromatography and Flame Photometric Detection
ASTM D4951
Standard Test Method for Determination of Additive Elements in Lubricating Oils by Inductively Coupled Plasma Atomic Emission Spectrometry
Inductively Coupled Plasma Emission Spectroscopy
ASTM D5501
Standard Test Method for Determination of Ethanol and Methanol Content in Fuels Containing Greater than 20% Ethanol by Gas Chromatography
Gas Chromatography
ASTM D5184
Standard Test Methods for Determination of Aluminum and Silicon in Fuel Oils by Ashing, Fusion, Inductively Coupled Plasma Atomic Emission Spectrometry, and Atomic Absorption Spectrometry
Inductively Coupled Plasma Emission Spectroscopy
ASTM D5185
Standard Test Method for Multielement Determination of Used and Unused Lubricating Oils and Base Oils by Inductively Coupled Plasma Atomic Emission Spectrometry (ICP-AES)
ASTM D5708
Standard Test Methods for Determination of Nickel, Vanadium, and Iron in Crude Oils and Residual Fuels by Inductively Coupled Plasma (ICP) Atomic Emission Spectrometry
ASTM D5134
Standard Test Method for Detailed Analysis of Petroleum Naphthas through n-Nonane by Capillary Gas Chromatography
Detailed Hydrocarbon Analysis (DHA) System
ASTM D6729
Standard Test Method for Determination of Individual Components in Spark Ignition Engine Fuels by 100 Metre Capillary High Resolution Gas Chromatography
ASTM D6730
Standard Test Method for Determination of Individual Components in Spark Ignition Engine Fuels by 100 - Metre Capillary (with Precolumn) High-Resolution Gas Chromatography
ASTM D6733
Standard Test Method for Determination of Individual Components in Spark Ignition Engine Fuels by 50 - Metre Capillary High Resolution Gas Chromatography
ASTM D8071
Standard Test Method for Determination of Hydrocarbon Group Types and Select Hydrocarbon and Oxygenate Compounds in Automotive Spark-Ignition Engine Fuel Using Gas Chromatography with Vacuum Ultraviolet Absorption Spectroscopy Detection (GC-VUV)
VUV PIONA+ Analyzer
ASTM D5186
Standard Test Method for Determination of the Aromatic Content and Polynuclear Aromatic Content of Diesel Fuels and Aviation Turbine Fuels By Supercritical Fluid Chromatography
Supercritical Fluid Chromatograph System
ASTM D5412
Standard Test Method for Quantification of Complex Polycyclic Aromatic Hydrocarbon Mixtures or Petroleum Oils in Water
Fluorescence Spectroscopy
ASTM D5713
Standard Test Method for Analysis of High Purity Benzene for Cyclohexane Feedstock by Capillary Gas Chromatography
High Purity Benzene Analysis System
ASTM D5837
Standard Test Method for Furanic Compounds in Electrical Insulating Liquids by High-Performance Liquid Chromatography (HPLC)
Liquid Chromatography
ASTM D6379
Standard Test Method for Determination of Aromatic Hydrocarbon Types in Aviation Fuels and Petroleum Distillates - High Performance Liquid Chromatography Method with Refractive Index Detection
Liquid Chromatography
ASTM D6591
Standard Test Method for Determination of Aromatic Hydrocarbon Types in Middle Distillates - High Performance Liquid Chromatography Method with Refractive Index Detection
ASTM D6584
Standard Test Method for Determination of Total Monoglycerides, Total Diglycerides, Total Triglycerides, and Free and Total Glycerin in B-100 Biodiesel Methyl Esters by Gas Chromatography
Analysis of Glycerin in Biodiesel Fuel
ASTM D7573
Standard Test Method for Total Carbon and Organic Carbon in Water by High Temperature Catalytic Combustion and Infrared Detection
Total Organic Carbon Analysis
ASTM D8083
Standard Test Method for for Total Nitrogen, and Total Kjeldahl Nitrogen (TKN) by Calculation, in Water by High Temperature Catalytic Combustion and Chemiluminescence Detection
Total Organic Carbon Analysis
ASTM D7371
Standard Test Method for Determination of Biodiesel (Fatty Acid Methyl Esters) Content in Diesel Fuel Oil Using Mid Infrared Spectroscopy (FTIR-ATR-PLS Method)
FTIR Spectroscopy
ASTM D7593
Standard Test Method for Determination of Fuel Dilution for In-Service Engine Oils by Gas Chromatography
Gas Chromatography
Other Standards
No.
Title
System Details
EN 1484
Water analysis. Guidelines for the determination of total organic carbon (TOC) and dissolved organic carbon (DOC)
Total Organic Carbon Analysis
EN 12260
Water quality - Determination of nitrogen - Determination of bound nitrogen (TNb), following oxidation to nitrogen oxides
Total Organic Carbon Analysis
EN 12916
Petroleum products - Determination of aromatic hydrocarbon types in middle distillates - High performance liquid chromatography method with refractive index detection
Liquid Chromatography
EN 14078
Liquid petroleum products - Determination of fatty acid methyl ester (FAME) content in middle distillates. Infrared spectrometry method
FTIR Spectroscopy
EN 14103
Fat and oil derivatives - Fatty Acid Methyl Esters (FAME) - Determination of ester and linolenic acid methyl ester contents
Gas Chromatography
EN 14105
Fat and oil derivatives - Fatty Acid Methyl Esters (FAME) - Determination of free and total glycerol and mono-, di-, triglyceride contents
EN 14110
Fat and oil derivatives - Fatty acid methyl esters (FAME) - Determination of methanol content
EN 15199
Petroleum products - Determination of boiling range distribution by gas chromatography method. Crude oil
Distillation Gas Chromatograph System
EPA 415.1
Organic Carbon, Total (Combustion or Oxidation)
Total Organic Carbon Analysis
EPA 625
Semivolatile Organic Compounds by Isotope Dilution GC/MS
Gas Chromatograph-Mass Spectrometry
EPA 8270
Semivolatile Organic Compounds by Gas Chromatography/Mass Spectrometry (GC-MS)
GPA 2177
Analysis of Natural Gas Liquid Mixtures Containing Nitrogen and Carbon Dioxide by Gas Chromatography
Natural Gas Analysis System
GPA 2186
Method for the Extended Analysis of Hydrocarbon Liquid Mixtures Containing Nitrogen and Carbon Dioxide by Temperature Programmed Gas Chromatography
GPA 2261
Analysis for Natural Gas and Similar
Gaseous Mixtures by Gas Chromatography
GPA 2286
Method for the Extended Analysis for Natural Gas and Similar Gaseous Mixtures by Temperature Program Gas Chromatography
IP 391
Determination of aromatic hydrocarbon types in middle distillates - High performance liquid chromatography method with refractive index detection
Liquid Chromatography
IP 436
Determination of aromatic hydrocarbon types in aviation fuels and petroleum distillates - High performance liquid chromatography method with refractive index detection
IP 548
Determination of aromatic hydrocarbon types in middle distillates - High performance liquid chromatography method with refractive index detection
IP 406
Determination of boiling range distribution by gas chromatography
Distillation Gas Chromatograph System
IP 480
Determination of boiling range distribution by gas chromatography method - Part 1: Middle distillates and lubricating base oils
IP 507
Determination of boiling range distribution by gas chromatography method - Part 2: Heavy distillates and residual fuels
IP 585
Determination of fatty acid methyl esters (FAME), derived from bio-diesel fuel, in aviation turbine fuel - GC-MS with selective ion monitoring/scan detection method
Gas Chromatograph-Mass Spectrometry
JIS K-2254
Petroleum products - Determination of distillation characteristics
Distillation Gas Chromatograph System
JIS K-2536-2
Liquid petroleum products - Testing method of components
Part 2: Determination of total components by gas chromatography
PONA Analysis (GC)
JIS K 7136
Plastics-Determination of haze for transparent materials
Haze Evaluation of Plastic Sheets and Films - Haze Measurement Using ISR-1503 Integrating Sphere Attachment -
JIS K 7161
Plastics-Determination of tensile properties
Tensile Test Methods for Plastics: ISO 527 and JIS K 7161
JIS K 7171
Plastics-Determination of flexural properties
Flexural Test Methods for Plastics: ISO 178 and JIS K 7171
JIS K 7312
Physical testing methods for molded products of thermosetting polyurethane elastomers
Measurement of Friction Coefficients of Films
UOP 539
Refinery Gas Analysis by GC
RGA System
High-speed RGA System
Extend RGA System
UOP 543
Trace Non-Aromatic Hydrocarbons in High-Purity Aromatics by GC
Non-Aromatic Hydrocarbons in Aromatics
UOP 551
C6 and Lower Boiling Hydrocarbons in Olefin Free Naphthas by GC
C6 and Lower Boiling Hydrocarbons in Olefin Free Naphthas
UOP 603
Trace CO and CO2 in Hydrogen and Light Gaseous Hydrocarbons by GC
Trace CO and CO2 in Hydrogen/ Light Gaseous Hydrocarbons
UOP 621
Boiling Point Distribution of Hydrocarbons by Gas Chromatography
Boiling Point Distributions of Liquid Hydrocarbons
UOP 690
C8 and Lower Boiling Paraffins and Naphthenes in Low-Olefin Hydrocarbons by GC
Octans and Lower Boiling Hydrocarbons in Olefin-Free Gasolines
UOP 720
Impurities in, and Purity of, High Purity p-Xylene by GC
Impurities in p-Xylene Analysis
UOP 725
Pentenes and Lower Boiling Hydrocarbons in Olefinic Gasolines by GC
Lower Boiling Hydrocarbons in Olefinic Gasolines
UOP 744
Aromatics in Hydrocarbons by GC
C10 or Lower Boiling Aromatics Analysis
UOP 798
Trace p-DEB or Indan in C8 Aromatics and Trace C8 Aromatics in p-DEB by GC
p-DEB in C8 Aromatics Analysis
UOP 831
Hydrocarbons in Sulfolane by GC
Hydrocarbons in Sulfolane Analysis
UOP 868
Trace Saturates in High Purity Aromatics by GC
Trace Saturates in Pure Aromatics
UOP 870
Carbon Number Distribution of Paraffins, Naphthenes and Aromatics by GC
Carbon Number Distribution of Paraffins, Naphthenes and Aromatics
UOP 899
Trace Hydrocarbons in Hydrogen, Hydrocarbon Gases or LPG by GC
Trace Hydrocarbons in LPG Analysis
UOP 931
Trace Impurities in Mixed Xylenes by GC
Trace Impurities in Xylenes
UOP 960
Trace Oxygenated Hydrocarbons in Gaseous, LPG and Liquid Hydrocarbon Streams by GC
Trace Oxygenated Hydrocarbons in Liquid Hydrocarbon Streams