With our Corporate Philosophy "Contributing to Society through Science and Technology", Shimadzu promises customers worldwide to realize our wishes for the well-being of mankind and the Earth.
Our new brand statement, "Excellence in Science", reflects our desire and attitude to respond to customers' requirements by offering superior, world-class technologies.
Shimadzu offers a multitude of products, encompassing Analytical and Measuring Instruments and Medical Systems. The Analytical Division is one of the world´s largest providers of analytical instrumentation and environmental monitoring equipment.
Shimadzu was founded in 1875 and has its place of business and origin in Kyoto, Japan. With a worldwide network of subsidiaries in 74 countries and circa 11.500 employees Shimadzu guarantees personal support for each customer.
Shimadzu Europa GmbH is the European Headquarter for Shimadzu Corporation (Kyoto, Japan). We are responsible for ten subsidiaries, several sub-subsidiaries, one branch, eight representativ offices and many handpicked, qualified distributors in Europe. In 1968 Shimadzu Europa commenced operations in Düsseldorf (Germany) with five employees and since 1987 the company is located in Duisburg. Meanwhile Shimadzu employs more than 800 people in Europe and has developed into a large European network with offices and trade partners in 81 cities in 48 countries. Unified by one central approach: to provide top class solutions.
Overview of our European Subsidiaries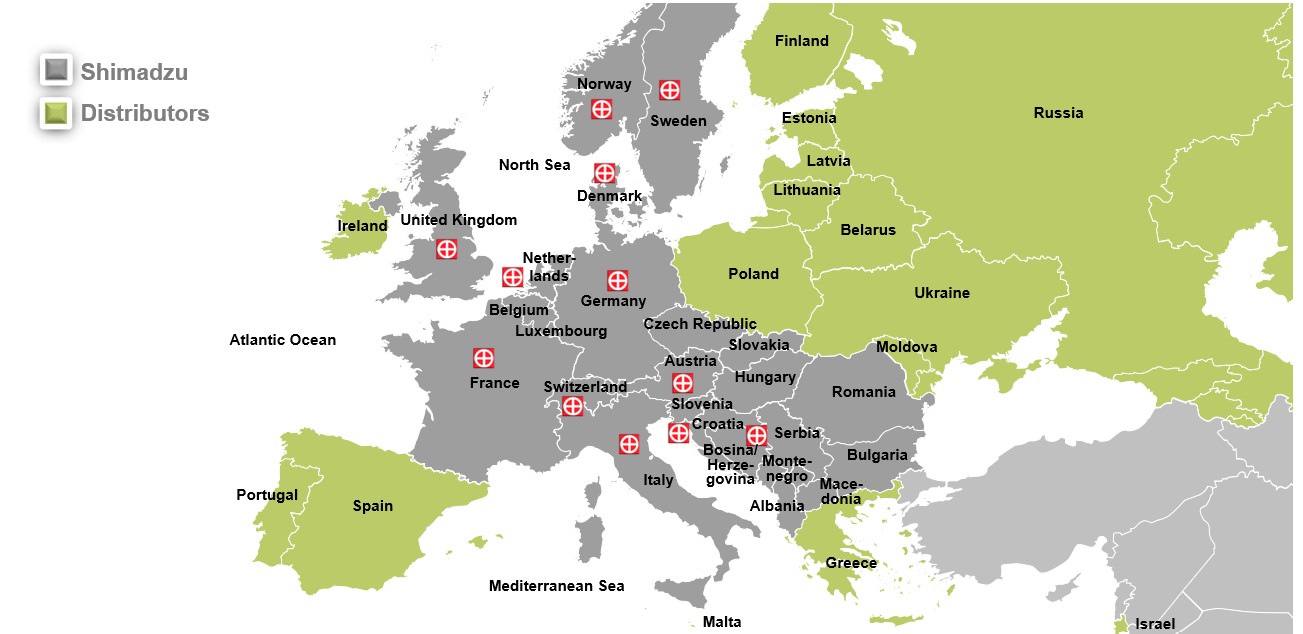 European Subsidiaries:
Thanks to our extensive network of handpicked, qualified distributors we are within reach – Europe-wide:
Product Range and Markets
Our product portfolio has grown organically, linking many disciplines and has its roots in the company's innovativeness. This is based on the creative talent of its scientists and engineers, such as Genzo Shimadzu Jr. who has been awarded as one of Japan's ten greatest ever inventors, and Koichi Tanaka, the 2002 Laureate of the Nobel Prize in Chemistry.
Shimadzu covers the whole bandwidth of Analytical and Measuring Instruments consisting of:
Gas Chromatography (GC)
Liquid Chromatography (LC, HPLC, UHPLC)
Mass Spectrometry (LCMS, GCMS, MALDI-TOF MS, UFMS)
Spectroscopy (UV/VIS, FTIR, AAS, ICP)
Life Science
Sum Parameters (TOC)
Material Testing
Balances
Software
Service & Support
Shimadzu's analytical instruments are best solutions for:
Pharmaceutical
Chemical, Petrochemical, Biofuel and Energy
Food, Beverages, Agriculture
Flavour , Fragrances
Environment
Health Care
Life Science
Industry, Automotive
Shimadzu also covers a broad range of Medical Diagnostic Imaging Systems consisting of
Angiography and Cardiac Systems
Radiography and Fluoroscopy Systems
General Radiographic Systems
Mobile C-arm Systems
Mobile X-ray Systems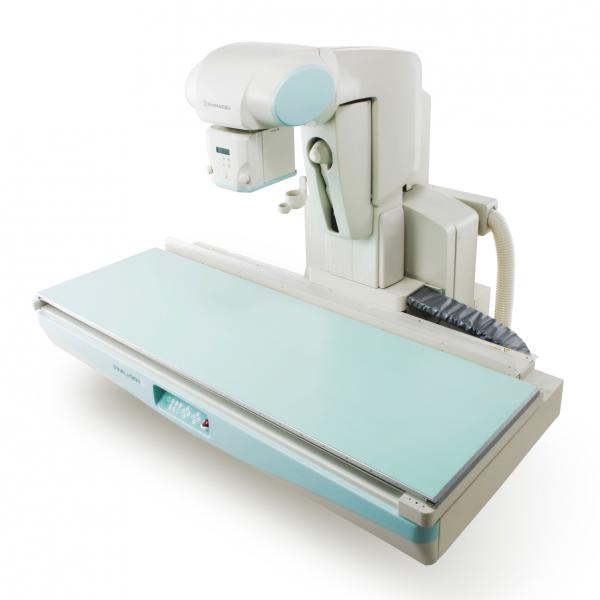 Laboratory World
Shimadzu Europe has just opened the new Laboratory World for its customers from all over Europe. On an area greater than 1,500 m2, testing facilities are available for Shimadzu's entire product range – from chromatographs, spectrophotometers, TOC analyzers, mass spectrometers and balances up to material testing machines. Mass spectrometry, a technology that Shimadzu has shaped significantly in recent years, will be highlighted in its dedicated space. In addition, laboratory areas for customer applications and seminar facilities are being expanded.
Additional testing and demo facilities are available in further European Subsidiaries.
Virtual 3D-Tour
Service and Applications
Innovation goes hand in hand with comprehensive service packages and holistic applications, as reflected in Shimadzu's consulting and application solutions. Shimadzu produces globally according to acknowledged quality standards and enables its customers to work according to GLP, GMP, FDA and standard methods described in various pharmacopoeiae.
In each decade of its history, the company has launched new technological breakthroughs, and in recent years has achieved an even higher clock rate of innovations based on scientific know-how and progress achieved by academics and industry.