Cannabis Testing Solutions
Shimadzu's Cannabis Testing Solutions cover a broad range of applications, from potency testing to pesticide screening. We supply the instruments, methods and experience necessary to get you up and running quickly. Shimadzu have been applied to natural products, food sciences, pharmaceuticals and environmental testing for decades. Whether you are a chromatography expert or a novice, our platforms and training ensure that your laboratory will generate quality results from a wide variety of cannabis samples. Our easy to use platforms save you time and money, maximizing the profits of your laboratory. Shimadzu can help you with your QA/QC testing, peak harvesting analysis and cannabis research.
We are the cannabis testing instrument experts.
Shimadzu provides a wide array of powerful technologies for cannabis testing laboratories. Primary applications and platforms are listed below:
Cannabis Testing Applications
Cannabis Testing Platforms & Solutions
Improving Quality, from Seed to Store!
Shimadzu is your one-stop shop for cannabis testing instruments. Download the cannabis testing materials below and contact us to discuss making your cannabis testing dreams a reality! As medicinal and recreational cannabis markets continue to grow, analytical testing will ensure that consumers are receiving accurately labeled products that are free from contamination. Shimadzu is ready to assist you as you grow your laboratory. We also offer instrument leasing to accelerate your business potential.
Download these Cannabis Testing Materials
Cannabis Testing Laboratory Solutions Brochure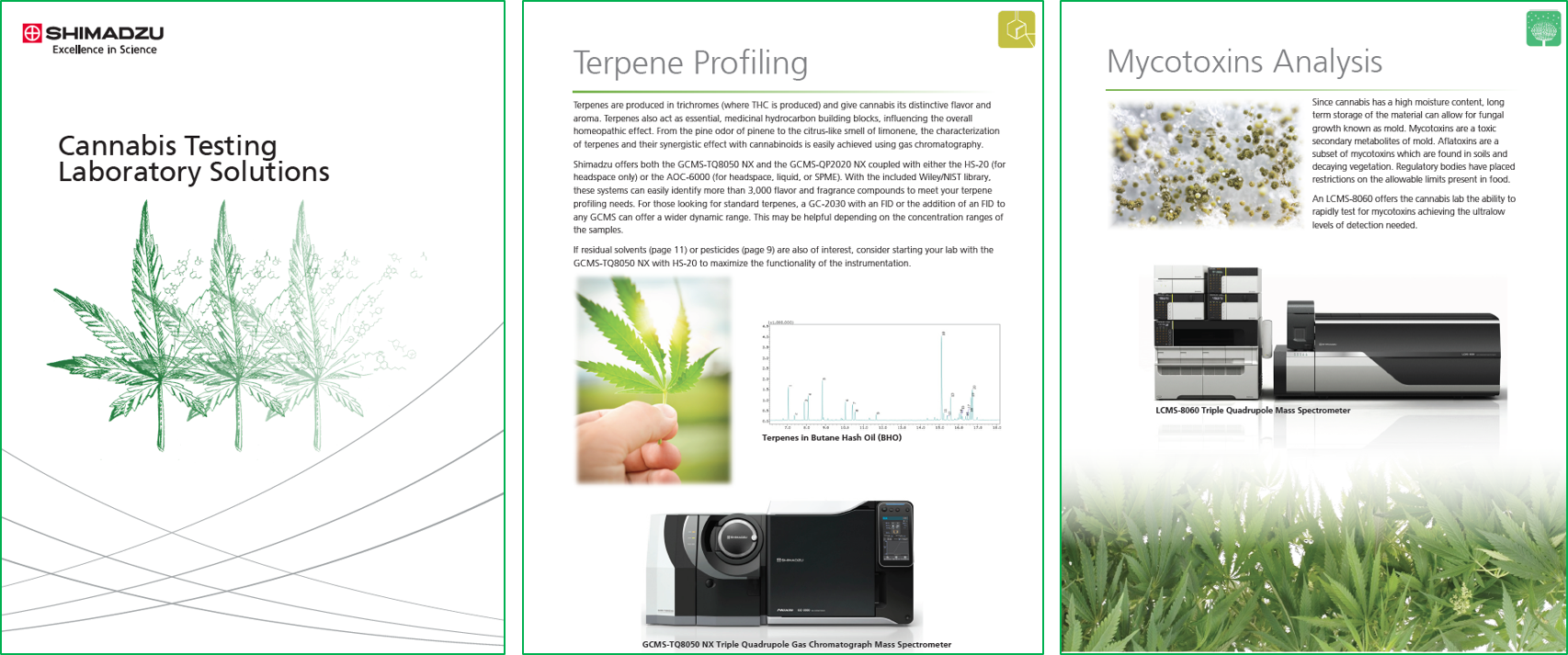 This brochure provides a general overview of potency testing, terpene profiling, pesticide screening, residual solvents, heavy metals and moisture content. From balances to HPLCs and GCMS, Shimadzu has you covered!
Partners for your success